Don't just take our word for it!
---
When you're talking about weddings, people often ask "What was the most memorable part of the day?" More often than not, the response is "the music". This thought is always in the back of Dave's mind, from the moment he writes the first page of sheet music to the performance of the final song of the evening. Every couple wants their big day to be special, and Dave strives to ensure their contribution of music makes a lasting impression
---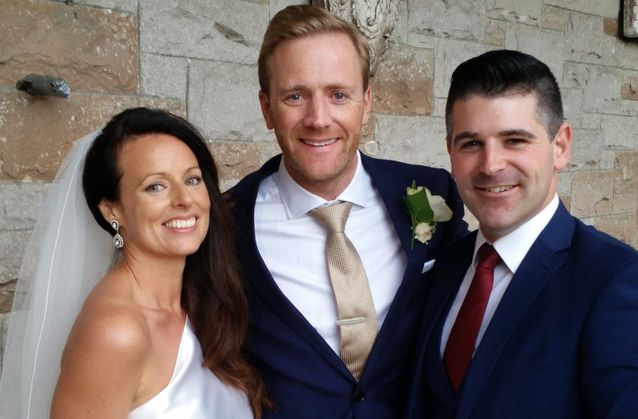 Dave Martin his band played at my wedding on NYE and I can honestly say it was a highlight for all of our guests. The band got the party into full swing, singing everything from Frank Sinatra to Snow Patrol. A talented band like this can be hard to come by in Northern Ireland so I wouldn't hesitate to recommend them for any wedding or event 

  Hayley Harrison, In! Magazine
---

 Absolutely spot on. You guys were the perfect compliment to our DB10 launch night. Thanks for including all the James Bond themes.. Will definitely be in touch again! 

  Aston Martin Belfast
---

 Dave and his band provided fantastic entertainment to one of our high calibre corporate events, creating the perfect ambience with a sleek and professional performance.  I would definitely recommend this talented bunch to clients and my events industry peers. 

Cathy Martin CMPR, Ramada Shaws Bridge
---

 We booked Dave to provide the entertainment for our Lady Captain's night. It was a major success especially due to Dave's rapport and interaction with his audience - he had them all joining in the fun in no time. Some people are still talking about the night! We met beforehand and having described the different age profiles etc I left the choice of music to Dave. He did a perfect job and was very professional in every way. 

Pauline Coll, Bangor Golf Club
---

 People still ask us, three years later who the band were that played at our wedding, would definitely recommend them to anyone. 

Katrina & Michael, Hilton Templepatrick
---

 Dave sang at our anniversary party and he was super. It was very easy to organize considering we don't live in Northern Ireland and everything went very smoothly. We had many compliments on our choice of entertainer and we were delighted with how the evening went. Would definitely use Dave again 

  Roz Corkill, Isle of Man
---

 Everyone loved the band, it really got the night kicked off! 

Stephanie & Matthew, Manor House Enniskillen
---

 After seeing Dave perform, my husband and I could not think of anyone else we would want to sing at our wedding. Dave really set the scene for our vintage style wedding. Such a nice guy with lots of different songs up his sleeve. We also asked Dave and the band to play for our first dance as we wanted to have something a bit different and will always remember their version of 'Moondance' which my husband and I just loved. The feedback from our guests was also great and they all really enjoyed the music. 

Zara & Ross, Galgorm Manor Hotel
---

 Dave Martin and his band played at our wedding evening reception and I cannot recommend him highly enough. The selection of repertoire was great and the quality of performance on the evening was first class with Dave and the band even learning a new song for our first dance. Dave is a real performer and had the crowd up dancing all night and or guests were so complimentary about the music. 

Tammy & Martin, La Mon Hotel
---

 I booked Dave Martin to sing at my wedding from when guests arrived until dinner was served, absolutely fantastic! Guests loved his style of music and his interaction with them! Highly recommend him! I couldn't have booked anyone better for the job I needed! 

Heather Blair, Culloden Hotel
---

 The atmosphere in the evening when 'Dave Martin' performed was amazing, I can't praise him enough. Not only did he sing songs by request, the manner in which he delivered the songs around tables and through the guests was so enjoyable. When we discuss the wedding and what a lovely day it was the 'wedding singer' always gets a mention, he was an all round winner…. Matter of fact, seen Michael Buble in the o2 arena, and would even say you could duet with him no problem! 

Beverley & Harry, Ramada Shaws Bridge 
---

 We found the band very accommodating with play set which needed to be lively without impacting on guests' ability to converse and network. I would definitely consider booking them again. 

Anthea Savage, Radisson Blu Hotel  
---

 Dave is a talented singer.  He and his amazing band brought a certain style and class to our wedding reception.  We would highly recommend them. 

Brenda & Roger, Merchant Hotel
---

 From their vast library of music, Dave Martin and his band brought a sense of class yet also great fun to our wedding reception. A local Michael Buble! 

Claire & Tim, Galgorm Manor Hotel
---

 Dave Martin and his band played at our wedding, they really made our evening. All our guests enjoyed the set no matter what age. We'd highly recommend Dave for any event. 

Donal & Oonagh, Hilton Templepatrick
---

 Dave and his band provided the music for our evening party. He got young and old dancing and set the mood for the party brilliantly. We were absolutely thrilled with his performance and we were getting complIments on our choice of entertainment for months afterwards. I'd highly recommend him & his band to anyone 

Debbie & Matt, Brownlow House
---

 Recently booked Dave for my wedding, he was a big hit with all the guests and of course my husband and I. Some of the guests thought we had a cd playing Dave was so good! A lovely voice and a professional to deal with. Reasonably priced and reliable!  Great choice of songs too. Highly recommended. (Dave himself is a bit of eye candy for the ladies!) 

Emma and Laurence, Whitehead Golf Club
---

 As soon as we heard Dave sing we knew we had to have him sing at our wedding. While we were off getting photographs taken in the afternoon Dave serenaded and swooned our guests. Dave has the personality to go with his voice and interacted with our guests, they were very impressed! If you want to create a lovely relaxed atmosphere at your event then I cannot recommend Dave highly enough!! 

Ashley & Ian, Galgorm Manor Hotel